There is nothing more soothing than a hot bowl of soup, especially on a cold day. And just because you are eating low-carb doesn't mean you have sacrifice flavor. The keto diet is a great way to lose weight quickly and these keto diet soup recipes can help you prepare the perfect light meal.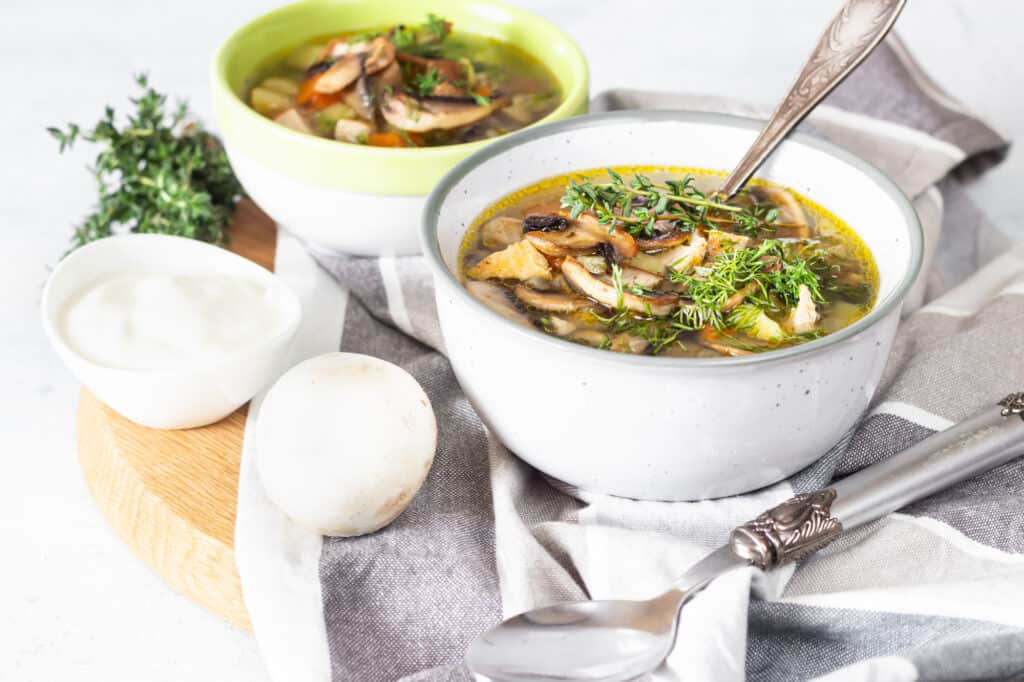 Soups are the perfect food to prepare in bulk and freeze or just keep in the refrigerator for a quick lunch or afternoon snack. Another interesting way to enjoy soups is to have them cold.
Having a bowl of chicken noodle soup served cold does not sound appealing, but how about a bowl of chilled cucumber soup or keto gazpacho?
If you are on a weight loss plan, you should add soups to your list of diet foods. Soups are not only very versatile, but they can also be quite filling with very little calories. Looking for fat and protein?
There are many soups that can provide them as well. If your idea of soup is chicken and noodle, you are going to be in for a surprise when you see some of the flavors that can be paired to create some very unique soups.
This post may contain affiliate links. Please read our policies for more details.
Keto Roasted Tomato and Garlic Soup
Tomato and garlic…two flavors that have been used together for centuries in Italian sauces. Now you can have these full flavors in a soup.
This low carb tomato soup is dairy-free, egg-free, nut-free, Paleo and even Whole 30 compliant!
This keto-friendly soup makes a great meal on these cool autumn days.
Get the recipe here.
Quick Mexican Chicken Soup
Are you a fan of Mexican food? Then you need to try this Mexican chicken soup. This soup is the perfect way to use leftover chicken.
A can of diced tomatoes and can of green chilis and you are on the way to having a meal. Cream cheese and cheddar cheese gives this recipe its rich flavor.
Not following a low carb eating plan? Why not enjoy this meal with nacho chips?
Get the recipe here.
Pumpkin Soup with Chorizo Crumb
|
I am amazed at the flavors that can be paired together to create unique and tasty soups.
Pumpkin and chorizo sausage are two of the foods used in this delicious soup recipe.
Chopped pumpkin with a chicken stock base and some added bone broth cooked down to perfection make this soup full-flavored and filling.
Get the recipe here.
Keto Bacon Cheeseburger Soup
Bacon cheeseburger has become one of America's favorite foods. So, why wouldn't it make a great soup?
This soup can be prepared on the stovetop or with my favorite…a slow cooker.
Hamburger, cheddar cheese, heavy cream and bacon make this an awesome soup for the person following a keto lifestyle. If you like cheeseburgers, you are going to love this soup.
Get the recipe here.
Spicy Gazpacho and with Crab Recipe
When someone mentions cold soup, the first that comes to mind is gazpacho. If you like salsa, this is your soup. This recipe has crab in it.
Shrimp would also work in this recipe as well as scallops. One of the best things about this soup is the prep time, you throw all the ingredients together and chill.
Make it the night before and you have dinner waiting for the next evening.
Get the recipe here.
Low-Carb Chilled Cucumber Soup
Besides gazpacho, chilled cucumber soup is another popular soup of the chilled variety. This recipe is also quick and easy.
Once all the ingredients are chopped, it is easy as putting them in a food processor and blending until smooth.
Chilled cucumber soup makes the perfect summer meal, but don't think that is the only time it can be eaten.
Get the recipe here.
Strawberry-Lemon Thyme Soup Recipe
Strawberry-Lemon Thyme soup…just the name of this soup intrigues me. The nice thing is that chilled soups take very little time to prep and require no cooking.
Strawberries are so tasty and paired with lemon and thyme makes for a delicious bowl of soup.
Not sure if you would call this a dessert soup, but it certainly is delicious anytime.
Get the recipe here.
Chilled Melon Soup Recipe
EatingWell (EatingWell Magazine) has some amazing recipes and this chilled melon soup recipe is a perfect example.
This recipe is packed with tasty ingredients including scallions, cucumbers, jalapeno pepper, orange zest, ginger and cilantro.
Additionally, the watermelon makes this soup the perfect summer appetizer or side dish.
Get the recipe here.
Bake Keto Chili Recipe
Besides chicken noodle and vegetable soup, chili is a cold-weather favorite of many.
With this recipe being a keto chili, the beans and tomatoes are left out to keep the chili more keto-friendly. Avocados and bacon have been added, making this an amazing dinner.
Don't wait for cold weather to enjoy this tasty version of an old favorite.
Get the recipe here.
Keto Low-Carb Vegetable Soup
No soup recipe list would be complete without a vegetable soup recipe. The best part about this recipe is it only takes 30 minutes to make.
It is keto-friendly and packed full of vegetables. This also makes a great crockpot recipe.
Brown the onions and peppers, add the other vegetables to your favorite broth and you are 30 minutes away from a tasty bowl of vegetable soup.
Get the recipe here.
Shrimp and Cod Stew in Tomato-Saffron Broth
Vegetable beef stew used to be one of my favorites when I was growing up. If you are a seafood lover and like vegetable soup, this will be the soup for you.
Shrimp and cod were used in this recipe, but crab, scallops and clams would also make great ingredients as well. Enjoy this awesome bowl of yum with shrimp, fish and vegetables.
Get the recipe here.
Creamy Meatball Soup Recipe
Looking for a tasty creamy soup? Why not try this delicious creamy meatball soup. Use your favorite meatball food, such as; turkey, pork, sausage or any combination of these ingredients.
This is a keto and paleo-friendly soup. It also makes the perfect freezer meal. Enjoy it and put the rest away for a quick easy meal in the future.
Get the recipe here.
Low Carb Taco Soup
Looking for good comfort food? This low carb taco soup will certainly fill the bill. It takes a pound of chicken.
Cream cheese is what gives this soup its richness. Both slow cooker and instapot directions are available.
With 25 grams of fat and 41 grams of protein, this recipe should definitely be part of any keto diet meal plan.
Get the recipe here.
Poblano Chicken Soup
|
Time to use the wonders of the instapot with this recipe. This recipe can be made for dinner in less than 45 minutes using an instapot.
The soup is pureed and the chicken is added back in afterward. The thing I like best about pureed soups is all the spices that are used to give added flavor.
This recipe includes poblano peppers, garlic, cilantro, coriander and cumin, making for a great mix of flavors.
Get the recipe here.
Crock Pot Chicken Fajita Soup
Not only is this soup made in crock pot, it is keto friendly. That makes this recipe easy and healthy.
This recipe has a super low prep time of 10 minutes. Chop the vegetables the evening before, throw everything in the crockpot the next morning.
And 6 – 8 hours a tasty meal is ready to be served. Don't forget the tortilla chips!
Get the recipe here.
Cheesy Cauliflower Soup
How can this recipe not be keto-friendly when it contains cauliflower, bacon and cheese? And you can add the recipe to both your slow cooker and instapot recipes list.
This tasty recipe is safe for many of the low-carb eating plans and it makes a great cold-weather comfort food.
If you have 30 minutes and a pressure cooker, this soup could be on your table tonight.
Get the recipe here.
Instant Pot Chicken Noodle Soup
|
A soup list would not be complete without a recipe for chicken noodle soup. And a keto soup recipe for the instant pot is that much more appealing.
Instant pot recipes normally take minimal time to prepare (this one takes 30 minutes). You put everything in the pot and come back when it is done.
This recipe is packed full of tasty vegetables, chicken and shirataki noodles. It is comforting to know there are ways to have your favorite soup in a low-carb version.
Get the recipe here.
Final Thoughts on Keto Diet Soup Recipes
Soups are not just for cold weather. They can be light or filling, hot or cold, a main dish, snack or even a dessert.
Soup can be chicken and noodles, vegetables, cream and even fruit. Whether you are looking for the perfect meal, a snack, a dessert or the perfect side dish, there is a bowl of soup that will fill the requirement.
You Might Also Like…
17 Keto Dessert Recipes the Whole Family Will Love
17 Keto Diet Dinner Recipes You Can Make Tonight
11 of the Best Cheap Keto Diet Recipes You Can Make Today