We think, mistakenly, that success is the result of the amount of time we put in at work, instead of the quality of time we put in. — Arianna Huffington
You may be a person that wants a career and has aspirations of climbing the corporate ladder.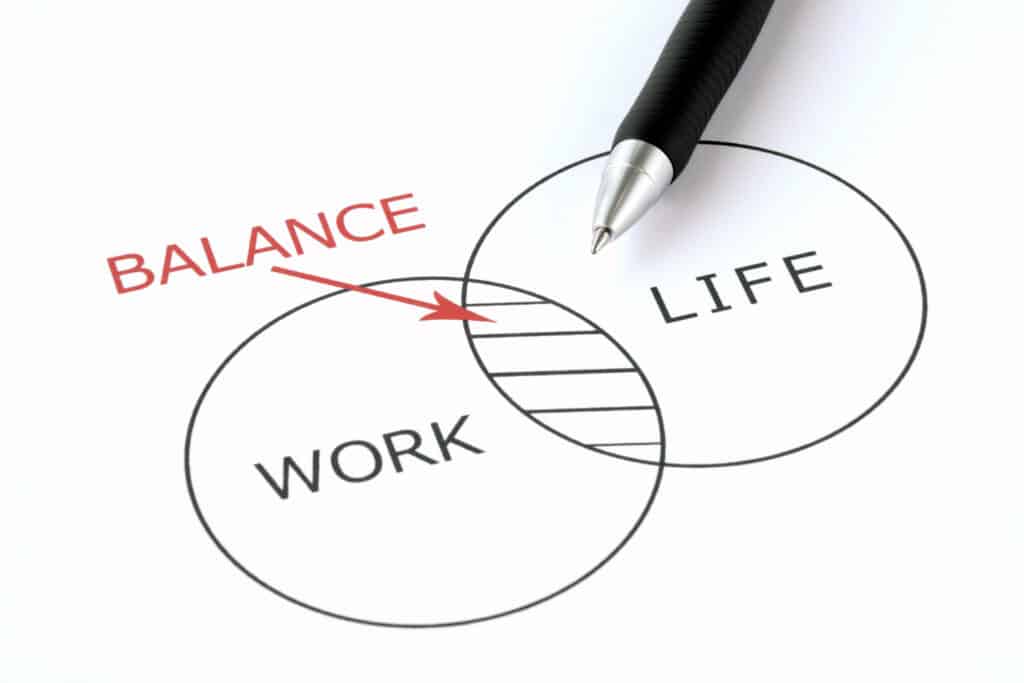 On the other hand, your personal priority may be to become the best parent you can be to your children and you have no desire to work outside the home.
This post may contain affiliate links. Please read our policies for more details.
You could be a person that wants to have both. It is important to remember that few jobs are without a certain amount of stress.
And since this guide is as much about ridding your life of stress as it is losing weight, you will have to figure out just how much stress you can handle before it begins to impact you negatively.
Only you can decide if what you are doing now is what you should be doing. If you are a reader, you should consider reading Thrive by Arianna Huffington.
It is a great book about how she completely changed her very successful career path to live a less stressful and more balanced life.
Her career path is now one she loves and gives her the balance in her life that her corporate job lacked.
Since many people are in a situation where they have to work in order to pay the bills, not working at all may not be an option.
If this is you, it is important to learn to balance your life. You have your work time (hopefully, not more than 40 – 50 hours per week), family time, personal time, etc.
Make sure you allow time for yourself and your personal care. Ignoring yourself is the first step to emotional eating.
Create a routine that works for you that includes, exercise, sleep, good nutrition and quiet time. These are all things that will keep your physical body healthy and your mindset positive.
If you are in an undesirable position at your job, what steps can you take to change it? What are your options for reducing stress in your work life?
Can you change your environment by working remotely instead of onsite? Can you easily change positions or get a different job?
Maybe you don't have to work at all or have enough resources that you can start your own business? Online businesses can be started at a very low cost, but it can be a while before you see a return.
There are other options for making an income outside of a traditional job. You may find you only want to work part-time to spend more time with your family or spend time on other interests.
Are you wondering if your career is right for you? Here are a few books about career life and what your alternatives are if you don't want a traditional career.
Thrive: The Third Metric to Redefining Success and Creating a Life of Well-Being, Wisdom, and Wonder
I love this book. It really gets you thinking about what in your life is important to you. Even if your life is balanced, it is still an excellent read.
48 Days to the Work You Love: Preparing for the New Normal
This book by Dan Miller seems so appropriate for the current times. It actually came out during the recession in 2009.
He talks about how to move past losing a job to having a job (or business) that compliments your talents. Wouldn't it be great to have a career that you are excited about?
Stress seems to be everywhere these days. Work is often a big culprit of stress. Increased productivity and setting limits are two things that can help you when it comes to spending less time at work.
And less time at work means more time for doing the things that you love.
Work is all about quality over quantity. No matter what your definition of work is, look for ways to do tasks in less time. Being efficient will allow you to spend more time doing the things you love.
Changing jobs or working at a career that is less traditional can be scary and exciting at the same time. I am not telling you to quit your job. But if it does not suit you, take the time to research your options.
Maybe you can find an hour a day to work towards a new chapter…whatever that might look like to you. What does work-life balance mean to you?
Are you using exercise as an excuse to eat?