The low carb and keto style of eating is an excellent way to get rid of extra pounds. And with meal replacement shakes you can implement low carb/keto meals into your lifestyle quickly and with very little effort.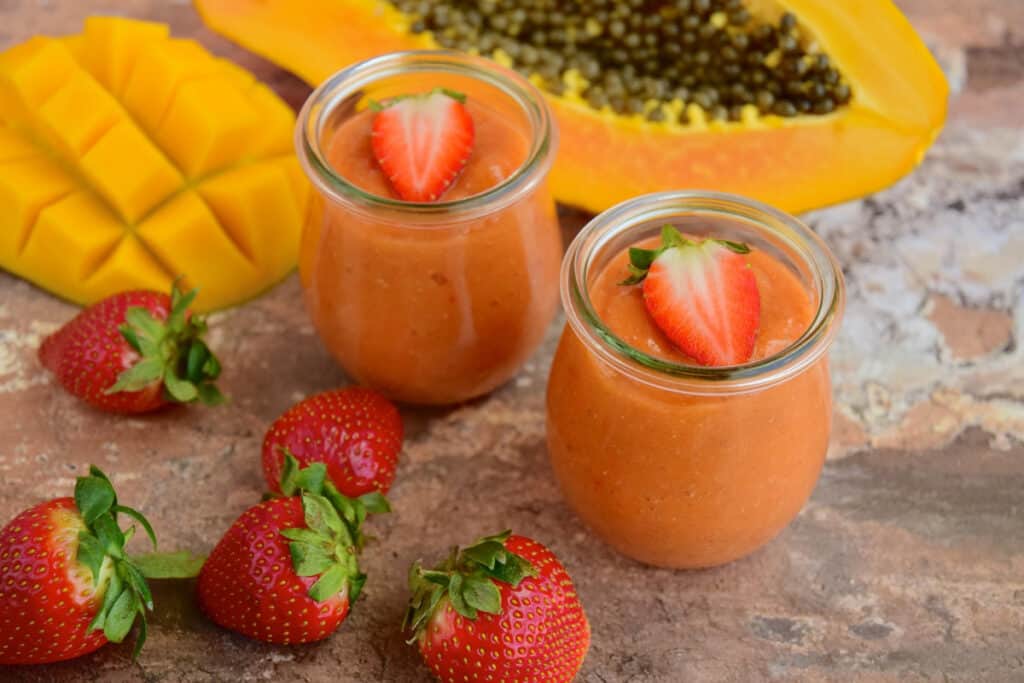 Homemade keto meal replacement shakes are simply made by throwing all the necessary ingredients into a high-speed blender and pulsing.
This post may contain affiliate links. Please read our policies for more details.
You just want to make sure that the ingredients used fit your definition of a low carb meal plan.
What is a Meal Replacement Shake?
So, by definition, a meal replacement shake is supposed to have the nutrition of a whole meal. These shakes are between 200 – 400 calories and for it to be low carb (keto), it should have protein and limited or no carbs.
It can have the fat component as well, if you choose. These meal replacement recipes are going to follow the same food ingredient rules as any other keto recipe.
This is just a quick refresher of what foods are considered low carb/keto-friendly. They will make excellent shake ingredients.
Here are some milk alternatives that can be used (unsweetened, of course): almond milk, macadamia nut milk, flax milk, pea protein milk, hemp milk, and coconut milk. Greek yogurt can be used as well. The carbs are a little bit higher, but so is the protein content.
For fruit, you can use avocado, watermelon, cantaloupe, raspberries, blueberries, strawberries, tomatoes and peaches.
For those of you that prefer a green shake, most leafy green vegetables have fewer than 5g of carbs per 100g serving. Cucumbers, bell peppers, mushrooms and zucchini are also good options.
If you need a sweetener, here are a few that work for keto: stevia, sucralose, erythritol, xylitol, monk fruit sweetener and yacon syrup. I try to use fruit to sweeten, but it is whatever works for you.
Keto and Low Carb Meal Replacement Shakes
Don't want the task of coming up with your own low carb or keto meal replacement recipes? No problem. Here are 17 delicious smoothie recipes that are already done for you.
1. Low Carb Strawberry Cheesecake Smoothie
Strawberry cheesecake has to be one of my favorite desserts. Now you can have this yummy dessert in a low-carb shake.
This shake is loaded with flavor and is a great option if you need a fat bomb to lift your fat macros for the day. If you are a strawberry lover, this delicious treat is for you!
Get the recipe here for the Low Carb Strawberry Cheesecake Smoothie.
2. Keto Avocado Green Tea Smoothie Recipe
So, Carol from All Day I Dream About Food does it again by combining avocado and green tea. This the perfect mix for a post workout recovery shake.
This recipe also includes some substitutions for that individual that is not a fan of avocado. This tasty shake makes a great breakfast or a perfect light lunch.
Get the recipe here for the Keto Avocado Green Tea Smoothie.
3. Low Carb Summer Blackcurrant Smoothie
If you are up for a berry treat, this is a great meal replacement smoothie for your taste. The recipe calls for blackcurrant and strawberries.
But don't be afraid to substitute blueberries, raspberries or blackberries if they suit your taste better than blackcurrant or strawberries.
This fruit filled smoothie is an excellent indulgence on a hot summer afternoon.
Get the recipe here for this Low Carb Summer Blackcurrant Smoothie.
4. Minty Green Protein Smoothie Recipe
There is nothing more refreshing and clean than the flavor of mint and it is the perfect addition to this green smoothie.
This shake is a mix of spinach and avocado seasoned with peppermint. Add your favorite protein and you have a complete meal in a glass. Don't forget to top it with the cocoa nibs.
Get the recipe here for the Minty Green Protein Smoothie.
5. Chai Pumpkin Keto Smoothie
It may not be fall, but this is a great full flavored shake recipe for the pumpkin pie lover. Loaded with healthy fats, this protein shake also makes a perfect fat bomb.
The main flavors are avocado, chai tea, pumpkin and vanilla. Change it up and enjoy a Chai Pumpkin Keto Smoothie. Get the recipe here.
6. Chocolate Avocado Raspberry Smoothie
Chocolate and raspberry are two of my favorite flavors and they are both in the same glass! What more can I ask for?
Enjoy these flavors and get your daily nutrition for any meal of the day. Wanna try a Chocolate Avocado Raspberry Smoothie? Get the recipe here.
7. Keto Blackberry Cheesecake Smoothie
Got another cheesecake smoothie. This one is blackberry and it is delicious. If you are looking for a fat bomb with enough calories to be a meal, this is your shake.
It is all thanks to the cream cheese. Don't like blackberries? Choose a different flavor of berries and you are good to go. Even other types of fruit will work.
Get the recipe here for the Keto Blackberry Cheesecake Smoothie.
8. Key Lime Pie Smoothie
Yum…I love key lime pie. There is just something about Key West and the key lime pie in Florida. This shake reminds me of all of that.
If you have five minutes and lime, avocado, coconut milk and sweetener, you can be enjoying this shake a few minutes from now.
Get the recipe here for this delicious Key Lime Pie Smoothie.
9. Keto Tumeric Milkshake
If you are a fan of tumeric, this is perfect shake for your meal replacement smoothie. This shake is great for the majority of the specialty diets.
Dairy free, gluten free, grain free, keto, LCHF, low carb, no sugar, Paleo, wheat free, diabetic…no problem. Get the recipe for Keto Tumeric Milkshake here.
10. Keto Flu Smoothie
If you have been on the keto diet, you may have experienced the keto flu in the first week. And you know that it is no fun.
Kale, strawberries, avocado and cucumber make up the main ingredients of this nutrient-packed smoothie. Whether you are looking for an energy boost or relief from the keto flu, the Keto Flu Smoothie will fill the bill. Get the recipe here.
11. Blueberry Coconut Chia Smoothie
Blueberry and coconut are the big flavors in this delicious smoothie. This shake is filled with healthy fats and antioxidants. You can use almond milk or Greek Yogurt.
Whether you are looking for a healthy meal or a quick snack, this shake will give you everything that you need.
Get the recipe for the Blueberry Coconut Chia Smoothie here.
12. Low Carb Raspberry Avocado Smoothie Recipe
If you looking for simple and tasty meal replacement shake, this is it. With just 4 ingredients and water, you can throw this shake together in 2 minutes.
This smoothie is dairy-free and has only 4g of net carbs. Get your taste buds ready, you are going to love this delicious meal replacement shake.
Get the recipe here for this Raspberry Avocado Smoothie.
13. Frozen Keto Berry Shake
This is a simple shake…fruit, coconut oil, coconut milk and almond oil. It is quick, simple and tasty.
This is an easy shake to customize to your taste as well. Get the recipe here for Frozen Keto Berry Shake.
14. Chocolate Peanut Butter Low Carb Smoothie
You cannot go wrong with chocolate and peanut butter. Reese's made a fortune off of combining the two flavors and with good reason.
This shake is the perfect breakfast for the non-keto eater. Not sure you want heavy cream? You can use one of the many keto-friendly alternatives to heavy cream, such as; almond milk.
Want to try the Chocolate Peanut Butter Low Carb Smoothie? Get the recipe here.
15. Keto Green Low Carb Breakfast Smoothie Recipe
If green drinks are your thing, this is the smoothie for you. This breakfast drink is sure to give you the energy and nutrients to get through the day.
Celery, cucumber, avocado and spinach are the greens in this tasty drink. There is no better way to start the day than with a glass of greens. This drink also makes a great snack.
Start your day off with some greens. Get the recipe for Keto Green Low Carb Breakfast Smoothie here.
16. Low Carb Green Smoothie
While we are talking about green smoothies, here is another green smoothie (spinach and avocado) that has a few unique flavors…raspberry, pine nuts and coconut flakes.
This recipe's creator mentions eating the shake as a "bowl." What perfect idea for a shake that has a thicker consistency. If you are big on presentation, a bowl will give a larger surface area to garnish.
Get the Low Carb Green Smoothie recipe here.
17. Keto Blueberry Smoothie
Blueberries are one of my favorites, which puts this smoothie at the top of my list. The simple and has only 4 ingredients.
The best thing about this recipe is because it is simple, it is very easy to substitute ingredients to make it with the fruit and milk that you like.
Like blueberries? Get the Keto Blueberry Smoothie here.
Final Thoughts – Keto Meal Replacement Shake Recipes
One of the best things about meal replacement shakes is the amount of time it takes to make them…no more than five minutes.
If you are a person that does not like to spend time in the kitchen, keto shakes are exactly what you need to add to your weekly menu plan.
Another great thing about these shakes is they all follow the same basic recipe. They have a protein or milk or both. They have fat and some fruits or vegetables.
It is as simple as starting with your protein and adding what works for you after that. You make the rules for what goes into your shake.
Don't have time to cook, why not make your favorite low carb meal replacement shake!
You Might Also Like…